In Episode 2 of Fox's prime-time drama Empire,  real-life scenarios continued to be the meat and potatoes of the hour-long drama that has climbed to #1 in watched ratings.
The 2nd episode found secrets uncovered and the "bitchometer" climbing as the high-pressure barometer between Lucious' (Terrence Howard)  ex-wife Cookie (Taraji P. Henson)  and his new refined flame, Anika (Grace Gealey). 
There's no love lost between Cookie and Anika and Episode 2 pits the former wife and current flame against one another in more than one scenario. That kind of scripting grants the opportunity  for all sorts of fireworks to explode.  Anika doesn't like Lucious' ex-wife Cookie and makes no attempt to hide her contempt. When it comes to Cookie, the feeling is mutual. In this episode, every encounter encourages a catfight.
Anika's contempt for Cookie leads her to "woman up" a bit more in Episode2. Cookie continues to treat Anika like she doesn't exist . In this episode, they both edge toward a one on one showdown  by one-upping each other every chance they get to do so.
In one scene Anika shows her displeasure toward Cookie dropping in her home unannounced by coming downstairs dressed in lingerie. Yeah Anika knows how to play booty games.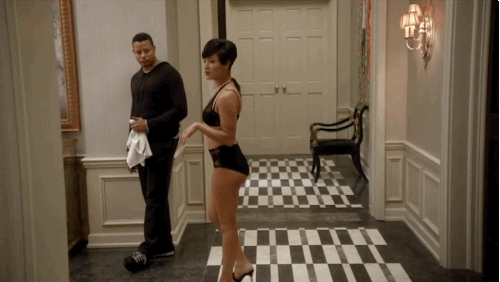 Anika also knows how to snoop. She needs Cookie out of this picture and she starts making moves to make that happen. She has Cookie followed by a private detective that discovers  Cookie is keeping down-low company with cop-types and tells Lucious.
Yes the current flame (Anika)  senses the former wife's deep history with  her husband is a threat that needs to be annihilated. Anika may be pretty and young, but she's a long way from dumb. Lucious, always skeptical because he's not living right himself receives the news about Cookie getting cozy with the Feds from Anika with bewilderment. If he can't trust Cookie (a woman who did a stint in the slammer for him) who can he trust? He becomes paranoid behind thinking Cookie is setting him up to take his company.  I can tell him he'd better start side-eying Anika because that woman is in this mix for the green.
Episode 2 goes deep into the context of trust reminding us that when it comes to money, trust and commitment runs a distant second. Lucious shows his cold-blooded heartless demeanor  by killing his lifelong friend, confidant (and BTW Cookies' cousin), Bunky then delivers a tear-filled (in classic Terrence Howard fashion) eulogy at Bunky's funeral. Lucious even stops outside the church moments before he delivered the eulogy to give a grieving boy some fatherly advice and a hundred bucks. The devil wasn't in a blue dress in this episode, he was in a white suit.  Luscious vows to find Bunky's killer [which shouldn't be  hard once he looks in the mirror]. Hakeem takes the news the hardest because Bunky was like a father to him. Hakeem refuses Cookie's attempt to console him and flinches at her touch, recalling that vicious broom beating Cookie gave him in episode 1. (she beat the boy down with a broom for calling her a bitch).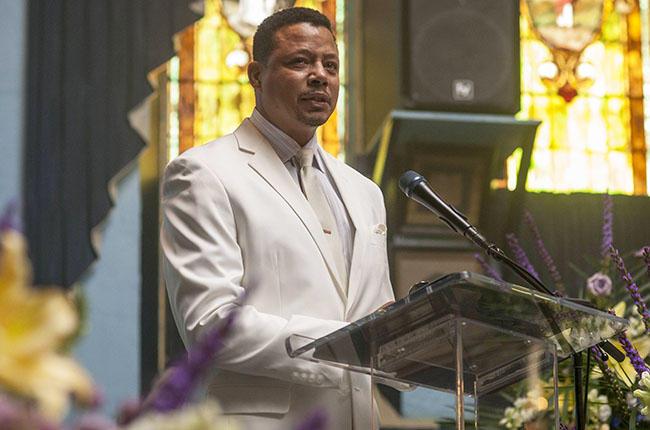 The gangster in Lucious just couldn't contain itself in this episode. He beats the manager of an artist off-screen when the manager makes the mistake of publicly confronting Lucious with some demands. Lucious also commands his staff to find ways to take down the head of another label (whom he calls a "hairy dingleberry") for signing former Empire star Kidd Fo-Fo. This sounds like a page right out of a past real-life hip-hop mogul's management guide whom was rumored to manage with threats, intimidation, and violence.
This episode also finds Lucious planning to open a new club (Leviticus) with Hakeem as the marquee act.   Cookie plans to derail those plans by having Jamal reveal he's gay on the same day. The normally docile Jamal wants no part of it because he sees it as a publicity stunt. Cookie meets with a publicist to bring the media to Jamal's event. Luscious gets wind of this news from Andre and holds a quick father & son limo meeting with Jamal and tells Jamal he will be cut off financially if he comes out of the closet. Jamal retreats to his $12,000 per month loft where he plays his piano weeping while Cookie and his boyfriend try desperately to track him down for his big media event.
Now the eldest son, Andre comes out this episode and reveals he's bi-polar.  His Hyde and Jekyll  transition comes out when he plugs (literally) female Deputy Mayor Alvarez (Sari Sanchez) from behind while visiting her at her office to get info  on a drunk that witnessed Lucious killing Bunky.
In a later scene Andrea's wife,  Rhonda walks in on him as he's ending a telephone conversation with the freshly plugged deputy mayor. Rhonda has a weird freak streak in her. She knows he's creeping around with the deputy mayor, and readily role plays as the deputy mayor while Andre plugs her deputy mayor style. Rhonda ups the ante by donning a bib to go downtown on Andre. Scandelous!  I sense a three-way coming.
Now Cookie ups the ante in her quest to make Jamal the top dawg of Lucious empire. Every ex-wife knows if you really want to f*** with your x husband's head go to an ex-boyfriend, ex-husband, or admirer for advice or help with one of said ex-husband's children. Cookie goes there, albeit it backfires.
She seeks out old admirer, and retired songwriter turned horseman,  Puma (played by Cuba Gooding Jr.) to write a song for Jamal. After some wistful reminiscing and wishful thinking Puma agrees to give Cookie a song for Jamal.
It turns out the song is  a 20-year-old piece  he wrote for Cookie that Lucious initially took a shot at and failed. Through a flashback, Lucious is seen struggling with the song, which makes Jamal mastering the song another source of contention between the two. The song seemingly fell by the wayside while Cookie was incarcerated and Lucious moved on to bigger and better things. I thought Lucious's reaction to Cookie hitting up another man for help was a little cool. The reason for that coolness was somewhere back in the day Lucious had the foresight to buy the song. The song, which Jamal nailed in an impromptu performance after a family dinner at Lucious and Anika's home can only go as far as Lucious wants it to. And he doesn't want it to go anywhere with Jamal.
So episode took on the returning ex-wife with back in the day history with the ex-husband who now has a younger model in the saddle.
This one is just beginning – Anika has to know long legs and big booty can hold off a determined down for whatever ex-only for so long. An ex that provided the funds responsible for the success of Anika's man, and then did more than a bean and a pole in the slammer for that successful man is slinging some serious weight. Add to that she's the Mother of the man's children. Anika is going to have up her game and stay on it 24/7 to hold off the brash "don't give a F**** Cookie. If it were me, I'd boot Anika and ring and bag Cookie for the long haul.
Jamal's sexuality continues to be an Achilles heel for only his Dad. We haven't seen the last of the impact of homosexuality in this adrenaline pumping weekly prime-time soap.
It's going to be interesting to see how the writers bring this one around to full Kharma for Lucious. Cookie as any Black Mother would is going to stand behind her son, sexuality notwithstanding. She's damned determined to take Jamal from pawn to king making a showdown with Lucious inevitable.
Hakeem continues to party and sex up whatever vixen he can bed, but can't find his way into the studio to put in any hard work. Lucious has his hands full with this one – and Anika isn't trying to help him with any of the issues he's having with his sons (another point for Cookie).
Luscious is a killer, and the fact that he has  a terminal illness makes him all the more dangerous. Those that are scripted to cross him in future episodes could be characters the writers plan to write out of the script. I think Cookie is the only one Lucious is scared to cross because she's the only one that's not scared of him and he knows it.
What's your take on Episode 2 and what real life lessons did you take away from it?  Let's start a conversation in the comment area.
Tarji P. Henson talks about acting, her role and objective in her role as Cookie on Fox's drama Empire.